Aloha Safari Helicopters! I am submitting my tour experience because it was nothing less than exceptional. I am an Oahu resident who happened to get a really good deal on a 7 day multi-island cruise on Norwegian Cruise Line's vessel, The Pride of America.
Everything was wonderful! We did our online research on helicopter companies and I'm so glad that we chose Safari! Funny thing was that we paid for the tour from the cruise ship a couple days prior to porting in at Nawiliwili Harbor.
Of course we were the difficult customer and didn't want to hang out at the cruise ship till Safari's shuttle came. We took the Anchor Cove shuttle to the Anchor Cove strip mall and got to do the tourist thing. I made a quick call to the Safari Helicopter's office and changed the pickup location to Anchor Cove.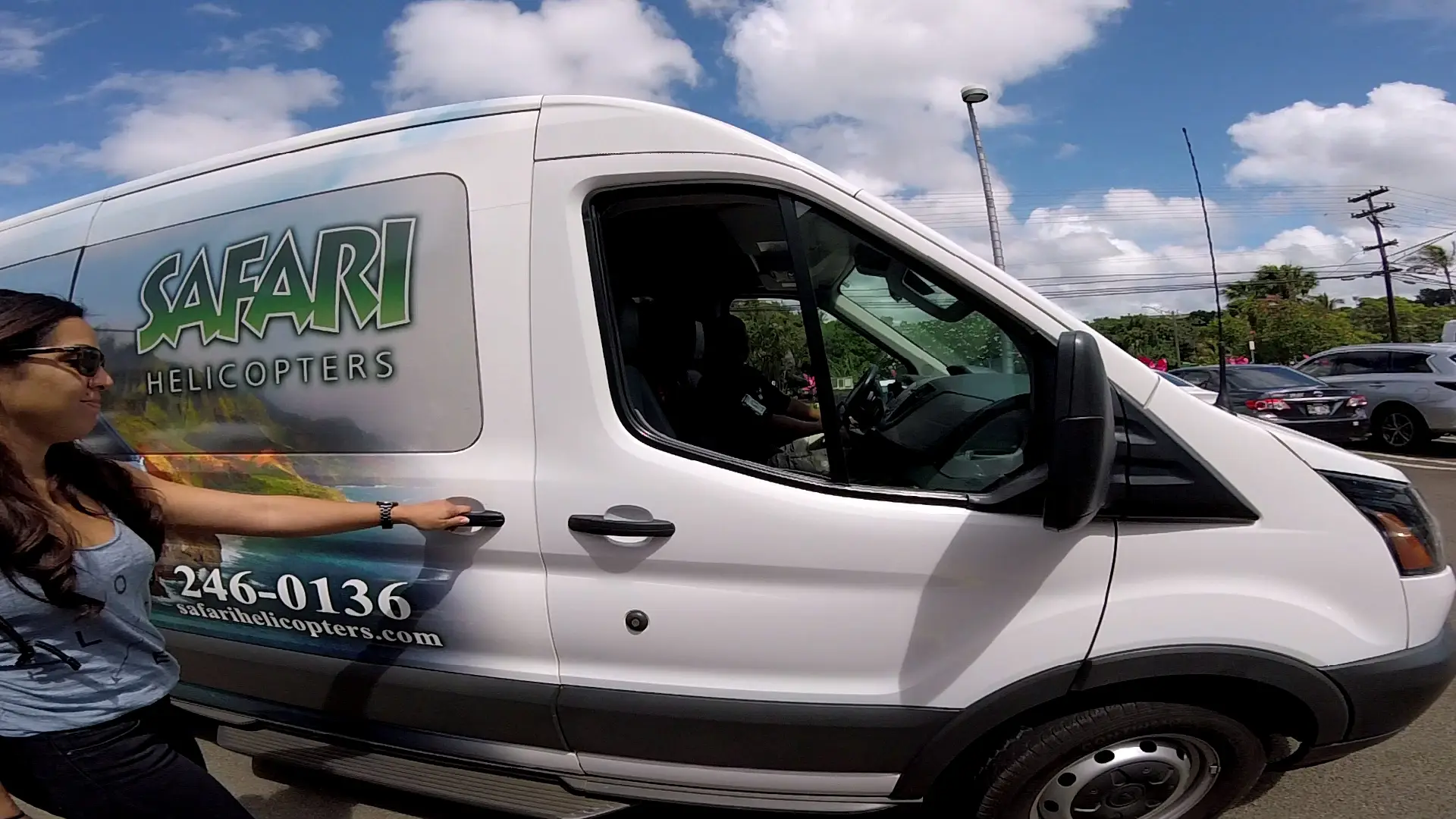 Absolutely no problems! We hopped on the shuttle and within minutes we were dropped right at the doorstep of their office/briefing room.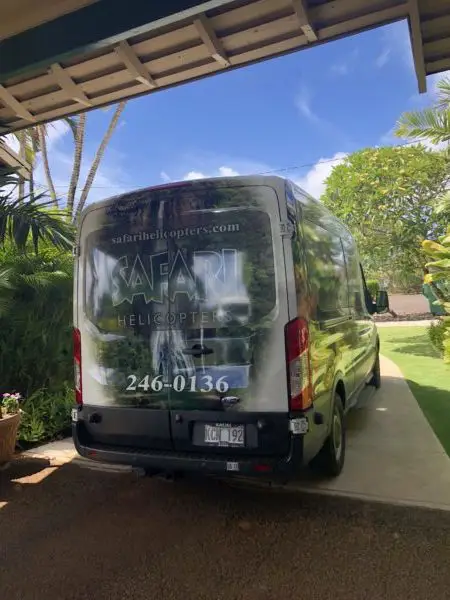 After checking in and putting some things in a locker, we attended a quick but informative safety briefing. The whole process was seamless and it felt like we were in and out of the office within 20 minutes.
I had never been on a helicopter before so i didn't keep a real good track of time but I'm happy I had some photos to reflect on the experience.
From the office, it was back in the shuttle for another seemingly quick ride to the helicopter landing pads. There was a restroom and a waiting area there.
Again, I cannot tell you how fast the whole "getting ready" process was. They had this down to a science and I didn't have any time to get anxious or apprehensive about the flight itself.
The staff was incredibly friendly. There was one dude with a rooster hair do in the flight briefing and he was hilarious. He got us to remember the safety information without tuning him out because of his little jokes along the way.
Before I even knew it, we were being directed to our helicopter.  This was the real beauty of the trip.  Sure the sights were fricken amazing, but I appreciate the little things that made the whole thing gel.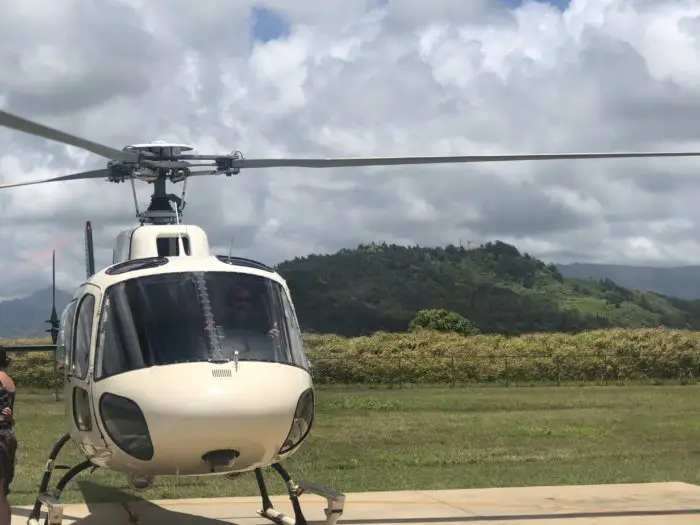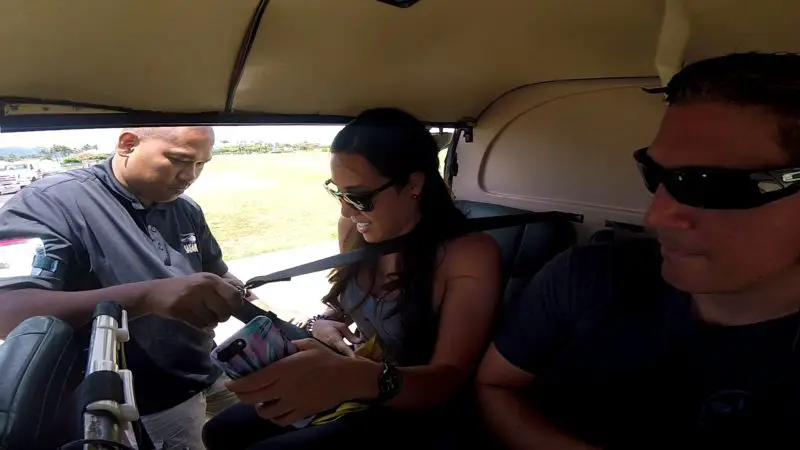 Now to our pilot, Paul.  Wow. Wow. Wow.   His ability to fly this helicopter and to take the tour highlights and personalize them and make them memorable is a real talent.  He showed us the property line of the Robinson family and knew the Hawaiian names of all of the major waterfalls.  The legends and stories he told about the different formations and caves were also impressive.
Finally the views.  I don't want to spoil this tour story by flooding it with my sub par photography, but I will share a couple.  The caveat is that you CANNOT even fathom the beauty on this tour by attempting to summarize it into a few photographs.  Having said that, here they are. 
  The first one has a side profile view of our pilot, paul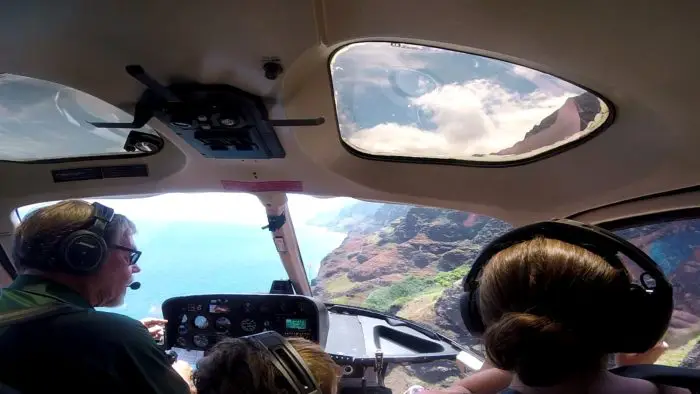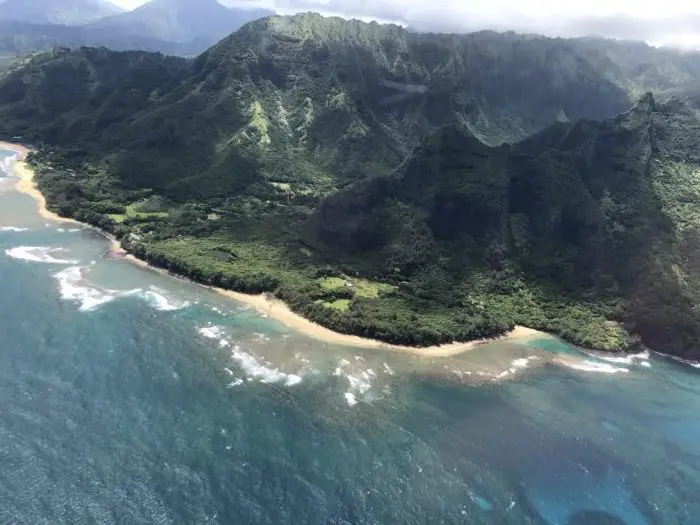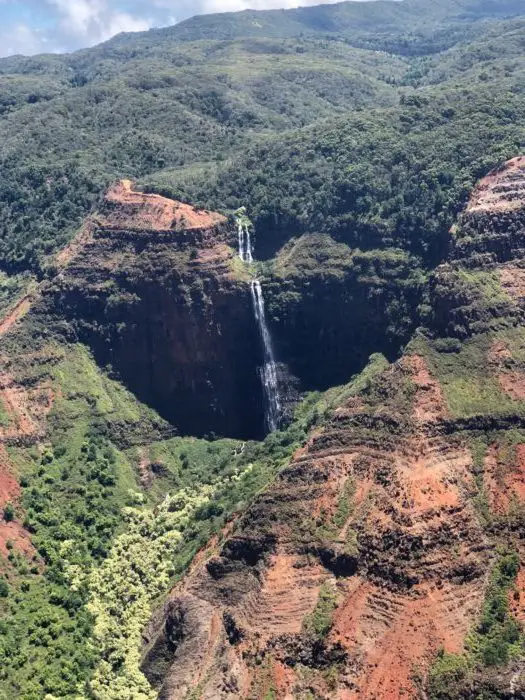 Did I mention Waterfalls??  You'll get your fill of seeing waterfalls on this trip.  Paul also took the time to point out all the Hollywood movies that were shot on the island of Kauai including Jurassic Park.  He even said that the helicopter in the movie never really landed there and it was all camera tricks.  He basically compelled me go pull out a DVD to check out the scene all over again.  Man movie graphics really sucked back then!!
I want to end my story by saying this.  I could not have asked for a better experience.  It was the cornerstone of my Norwegian Cruise Line vacation.  I guess if I had to change one thing, It would have been that the helicopter drop us back on top of The Pride of America.  Hahaha!  Now that would be something.
Thank you Safari!  I hope this actually does make it on the website.  I hate writing now days, but it was totally worth it.
Big Mahalo from the 2 Oahu kids getting off their first Norwegian Island Cruise.  We're hooked on cruise ships and helicopters.  Until we meet again.  A hui hou!